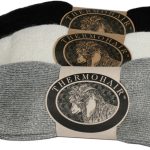 The Super Thermal Sock is soft, comfortable and suitable for extreme cold conditions. The Kid-mohair looped pile wicks away moisture so the sock is ideal for outdoor sports and work. Wash in cold water.
Men's Size: Medium, Large, X-Large $32.00
Ladies' Size: Small, Medium $29.00
Child's Size 12-4 $20.00 (color: blue only)
Colours: White, Grey, Black — Please specify your colour preference in comment box of your order.